Become a Volunteer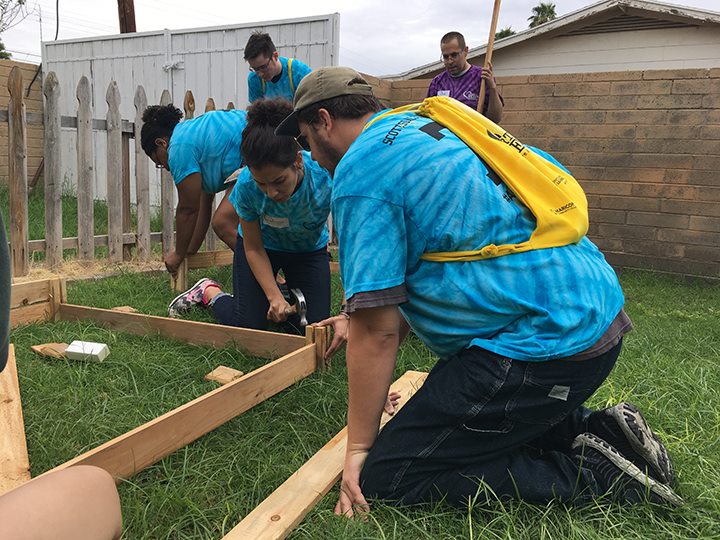 We have many volunteer opportunities available whether you're looking to volunteer at a recurring scheduled time or arrange a one-time event with a group. You'll find a rewarding experience as a volunteer because you will be working with us to empower, advocate for and evolve with our members!
You can volunteer at any one of our three locations in Phoenix (Perry Center), Maricopa or Casa Grande. Learn more about our locations.
Creative Arts Program
For artists of any kind! Art is a wonderful medium for connecting with individuals with developmental disabilities.
Music
We welcome musicians to help our members experience music. Individuals with developmental disabilities often find music deeply engaging. It is a wonderful way to touch the life of another.
Creative Cooking
Teaching cooking to persons with intellectual disabilities is an opportunity to not only increase independence, but also put basic academic skills to use in a functional way. Determining what is needed, obtaining the ingredients and following directions to put it together are all important steps.
Fundraising/Event Planning
We are seeking individuals to assist us with raising funds and awareness of events, as well as taking on the logistical planning of these events. We also need day-of event volunteers, which provide great opportunities for group participation.
Photography/Videography
The Opportunity Tree hosts many students and member events, and we would love to have an experienced photographer and/or videographer record these events to use in publications and promotions.
Public Relations/Outreach
You can help us get the word out about The Opportunity Tree! Represent us at provider fairs and other community events, and help us recruit new program members, volunteer and donors.
Site Beautification Projects
If you enjoy light physical activity and handy-work projects, we would welcome your assistance in keeping our facilities in top-notch shape. Projects include painting, carpet cleaning, light gardening, warehouse organization, etc.
All individual volunteers (not participating in a group school community service project, etc) 

must be 

18 years or older.

No previous volunteer experience necessary

Must not be serving court ordered community service

Must be able to pass a criminal background check

Volunteers MUST provide their own transportation (volunteers not permitted on The Opportunity Tree vans)
Become a Volunteer
Complete a volunteer application online to get started!
Hear about events, updates and more